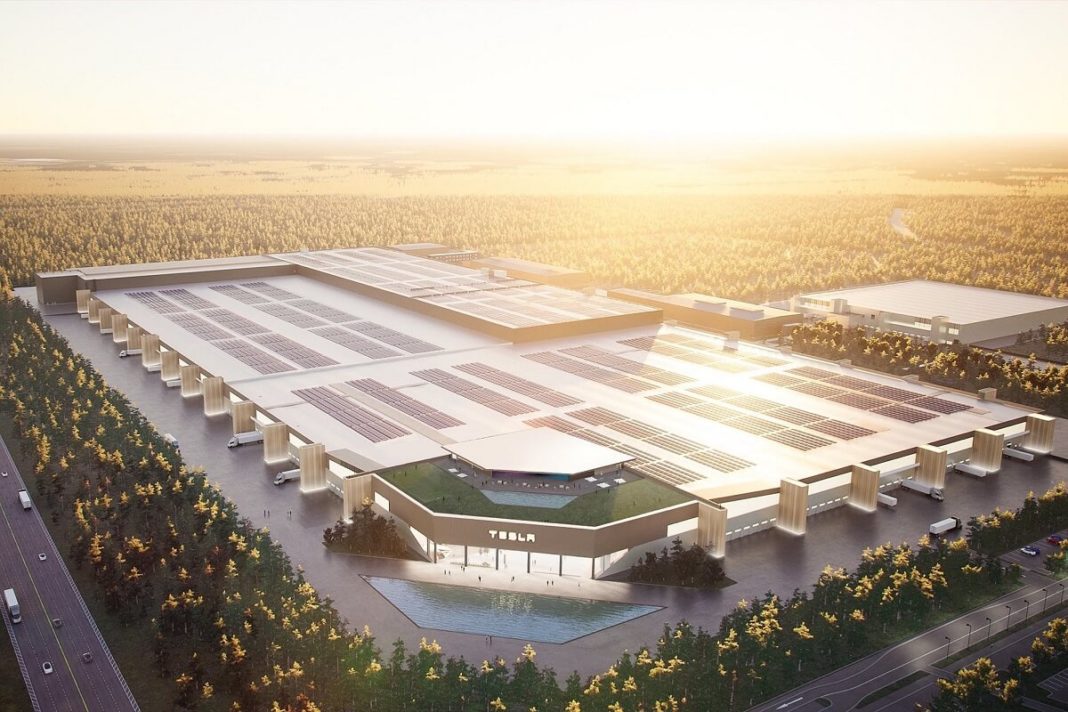 The Tesla factory near Berlin (Germany) is almost completed. There is even information in the press about accelerated production launch. It is mentioned that the first finished products will arrive from the production lines as early as June 2021. Previously, production was planned to start in July 2021. Many photovoltaic panels have already been installed on the factory roof.
Giga Berlin – construction progress
The first windows are being installed in the main hall of the Tesla factory in Berlin, and the roof over the pressing plant is almost complete. Construction crews returned to the foundry where green safety nets appeared. This means that this part of the factory will also be roofed soon. It can be assumed that the German Tesla factory will mass-produce cars by the end of 2021. It is very important for customers who are waiting for orders for their cars to be processed.
What cars will be produced at the Tesla factory in Berlin?
Tesla is to produce 500,000 cars every year at its factory near Berlin. Initially, two models will be produced there: Model 3 and Model Y, as well as batteries and motors. Tesla Model Y is expected to hit the European market only when it begins to leave the factory near Berlin. It is this model that is very popular with European customers.
Photovoltaics and other pro-ecological solutions at Tesla
The huge roof area of ​​the Tesla factory in Berlin was used in an optimal way. The photos show numerous photovoltaic panels. Solar energy will be used in the production process. It is believed that the solar panels are to supply most of the energy needed to operate the Tesla giant factory near Berlin. In addition, all processes are to be optimized in such a way as to minimize water consumption.
The first Tesla factory in Europe
The factory in Brandenburg's Grünheide near Berlin will be the fourth Gigafactory in the world, the second (after Chinese) outside the United States and the first in Europe. The construction of two more is also planned: in India and one more in the USA.
Work at the Tesla factory in Berlin
The first job advertisements for Tesla Berlin appear online. At the moment, the most sought after specialists, engineers and managers. However, this is the beginning of the recruitment process. According to media reports, Tesla employees must be able to communicate in German or English. Moreover, the travel time to work may not exceed 2 hours. Tesla counts not only on employees from Germany, but also from Poland. The factory is located only 60 km from the Polish-German border. The Tesla factory in Berlin will give job for more than 8 000 workers.
You can send an application to work at the Tesla factory in Berlin, among others via the website tesla.com. Factory workers are also recruited by employment agencies (including Polish-German ones), as well as the labor office in Frankfurt.